The story of Lt. Colonel James H. Doolittle and his Raiders
Green water breaking across her flat topside, the USS Hornet plunged through a heavy sea and strong wind. A few hours earlier, as dawn broke on April 18, 1942, lookouts aboard the American aircraft carrier had spotted a Japanese patrol boat. The Hornet's planes were intended to carry out their raid under cover of darkness; but Admiral William Halsey, whose nickname was "Bull" had not been bestowed lightly, gave the order to launch at once -- wind, wave, and daylight be damned. The ship swung into the wind , and at 7:25 A.M. the first of the twin-engine bombers groaned off the flight deck.
The Army pilots at the controls of the B-25's had practiced short takeoffs from the comfortably dry land of a Florida airstrip at Eglin Field but had never once tried it at sea. No one else ever had, either. Landing a B-25 on a carrier was impossible. Flying a B-25 off a carrier was, by comparison; merely insane. But the medium-weight bombers were the only aircraft in the American arsenal with a prayer of completing the daredevil mission. If all went according to plan, they would fly five hundred miles to Japan, drop their load, then continue another eleven hundred miles to a safe landing in unoccupied China.
Leading the attack was an unflappable test pilot, Lieutenant Colonel James H. Doolittle; his was the first of the lumbering bombers to catapult down the heaving deck. Over the next hour fifteen others followed. One pilot hung on the verge of a stall for so long as he strugled to get airbourne that, Halsey later recalled, "we nearly catalogued his effects." Thirteen of the planes headed for Tokyo, roared in over the rooftops from different directions, and dropped their four bombs apiece. The three others hit Nagoya and Osaka. Ever since the attack on Pearl Harbor four months earlier, Pres. Roosevelt had been pressing for just such a morale-boosting coup to bolster some of America"s wounded pride.
Doolittle's Raider's did essentially no damage -- except to the Japanese psyche. On that they scored a direct hit. The Japanese Army claimed it shot down nine of the marauders; the true figure was zero. But the premature launch of the planes had added almost two hundred miles to their planned mission, strong head winds burned up still more fuel as they made their way toward China, and most of the crews ditched or bailed out. Eight who landed in Japanese-occupied territory were taken prisoner and three of them were executed for the crime of bombing civilian targets but in reality in an excess of Japanese fury and mortification.
(Special thanks to Johnny Sykes - SYCHO - for supplying us a short version of this historical event.)
---
Official Doolittle's Raiders Patch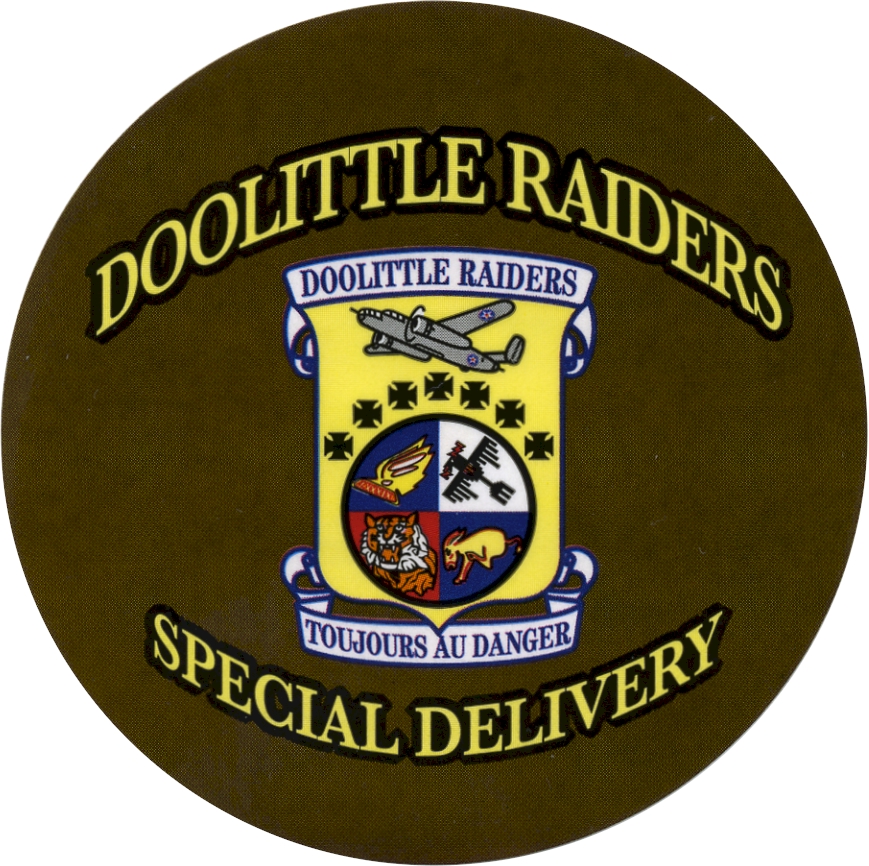 Thanks to SGTBIL for finding this patch (logo) for the squad.
Click here for larger printable version.
---
Howdy RAIDERS!
The squad is growing fast and is doing well in the rankings (see squad list to the left). We can be proud to be a part of Doolittle's Raiders. It is my honor to have every one of you in the squad. It is cool to see each one of you in action.
SQUAD MEMBERS
As I told you in the beginning, when we started the squad, I was not keeping good records of all the people we were recruiting. Therefore, we are missing about 10 names/e-mails of people I initially recruited. As they come around, I nab their names and e-mail addresses. To the left, you will see the list in the order recruited.
SQUAD MEMBERS PLAYING OTHER COLOR
Squad members should always check the roster within the Main Arena by typing in the buffer:
.roster squad
Then, you can check to see which color the squad is flying as it may change with each new map. You may also simply ask the guys, if you see Raiders online or in Team Speak. As always, a simple test if you are the first one in the map is to check which side the Knights are on and jump to the opposite color. We fly on the opposite side to balance out the game. It wouldn't be nearly as fun with almost all the bombers on the same side.
RANKINGS AND JOBS
I know there are some who don't care about points or rankings. But, as I can tell you from experience, once you are promoted to a higher rank, the points and rankings suddenly take on a new importance. HAHA
I would like for the RAIDERS to outperform every other squad in the arena on BOTH sides. We have a blast every time we get together in the arena. When we coordinate with each other, it's hard to get any better. TS3 makes it just a bit better. Below are some goals I think we should strive for:
1. BOMBING: Improve each bomber with a little bit of skills training. We have several bombers with tons of experience to tap into. If you like to bomb, consider spending some quality time with those who show expertise in the area.
2. FIGHTERS: We are developing a fighter group within the squad. If you prefer to be in a fighter plane, that is great! We need to have fighters to support the bombers on raids. I would like to see us have a group of dedicated fighters who excel in that field. Artydd is the fighter squadron leader. If you have any questions, please see him.
3.  RANKINGS: RAIDERS to fill in the top 30 positions for bombers, fighters, etc. I like seeing your names in the rankings. I know you do, too. But, if we push to be in the top 30 positions, the points will come and the promotions will follow quickly. Can you imagine having every member become a Captain before the year is out? I can see that happening!
4.  RAIDS: Have at least one or more coordinated bombing raids when we have sufficient squad members available. If you haven't been on a successful bombing raid, you don't know what you are missing. We need to have the full support of the whole squad when we do make those runs. You should see the external view when everyone is in formation. It will blow your mind. Let's do more of them.
5.  TROOPING: When I first came to WB, I flew the P51 and P38 mostly. When we needed bases trooped, I jumped at the opportunity to do so. It was because I knew that the only way to win was to change the majority of bases to our color. I flew everywhere NOE. It was a good experience that helped me when I began flying a bomber. I still troop, but I think that the task should be one that every one of us should be ready to do. I propose that the RAIDER squad adopt the following policy: when you enter the arena initially, ask where we need troops. So, the first mission you fly may be a trooping mission. That means that we are filling the role most needed – changing the base color. It should be viewed as a courtesy to our squad members.
6.  WEB SITE: We thought it would be cool if we could have our own web site for the squad. It happens to be my profession, so that was an easy goal. You're looking at it. It is now possible for us to have our own e-mail accounts (i.e. Darryl@DoolittlesRaiders.com).  Let me know what you think.
7.  SQUAD PERMISSIONS: Some have asked to be allowed to invite others to the squad. Currently, only a few have such permissions in the WB back office. Only the CO has the permission to remove a squad member from the squad.
8.  TEAM SPEAK: The details for installation and use of the new TS3 are on the upper right side of this page. The squad has been able to function so much better after setting up TS3. Check sixes and mission coordination is improved tremendously. If you haven't got it set up, please do so today.
---
NEW INFO BELOW:
We are working on setting up this new web site for Doolittle's Raiders. I will try to work on the site a little every day. Please take some screen shots from your missions and send them to me along with details of the raid. I will post them on the site.

FINAL WORD:
Well, I will stop now. I look forward to hearing from you. Please take the time to send me your comments and please.
Thanks,
Darryl
CO, of Doolittle's Raiders
BOOM BOOM
P.S. When sending an e-mail to me, please start the subject line with "Doolittle's Raiders", so that I can spot your e-mail easier. Some e-mails have been deleted accidentally. Thanks.